From iGoogle's debut in 2005 to our more recent launch of stars in search in March, we've enjoyed making your search experience more relevant, useful and fun through personalization. Today, we're introducing a new feature that brings a whole new level of personalization to Google by letting you add a favorite photo or image to the background of the Google homepage. You can choose a photo from your computer, your own Picasa Web Album or a public gallery hosted by Picasa which includes a selection of beautiful photos.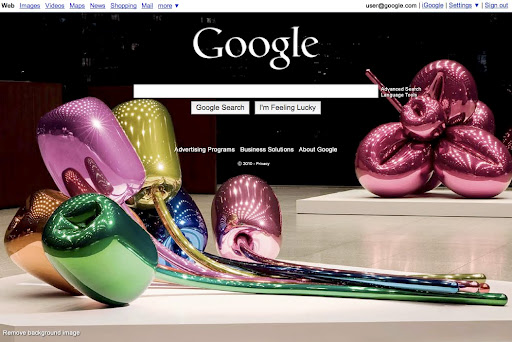 An example homepage featuring artwork by Jeff Koons, photographed by Sandy Volz
A second example page, featuring artwork by Tom Otterness, photographed by Cesar Perez
Whether you choose a photo of a loved one, a picture of your favorite vacation destination or even a design you created yourself, Google.com is now yours to customize. For those of you who want to enjoy the clean, simple look of Google as well as your personalized view, we've made it easy to switch between your customized search page and classic Google.


We are beginning to roll out this new feature to users in the U.S. over the next few days, so if you don't see a link in the lower left-hand corner of Google.com now, check back soon. For those of you outside of the U.S., you can expect to see this new feature in the coming days as we roll it out internationally to offer similar, consistent experiences globally.


And if you've customized your look with a fun personal photo we'd love to see what your new homepage looks like. Tweet a picture of your page with the hashtag #myGooglepage and share it with us!


We hope you enjoy this fun new feature and that it makes Google search more your own.
Marissa Mayer, VP Search Products & User Experience